About BRAYCE
BRAYCE provides opportunities for cultural exchange and leadership training for marginalized and underprivileged young people from the States of Rio de Janeiro and São Paulo. By selecting youngsters already in school and leadership training programs, this exchange further develops and enhances the skills necessary for them to return home and become role models, effective leaders and inspired members of their communities.
This goal is being realized by offering hands-on life and leadership skill training at Camp Hazen YMCA in Chester, Connecticut, one of the most prestigious youth camps in the United States.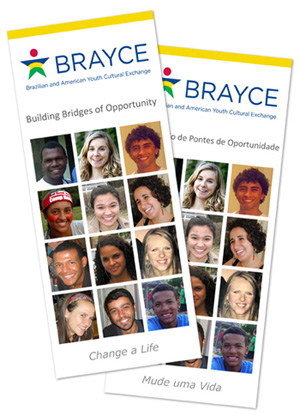 In support of this concept, since 2008 American college students have had the opportunity of an intern experience by active participation in community projects, sports, social and environmental studies programs in the same communities of the young Brazilians. As the next generations' potential leaders and decision makers in their communities, this experience enables the young people in both countries to:
Become role models and effective leaders
Develop cultural understanding 
Forge life-long, cross-community friendships
Gain a perspective and insight of life in other countries
Become inspired members of their communities
The vision for BRAYCE is to expand the youth cultural exchange model to facilitate similar programs elsewhere in Brazil. BRAYCE is the organizing and funding institution linking highly esteemed youth training centers in Brazil and the United States.
Download the BRAYCE Brochure English / Portuguese
Download the BRAYCE 2012 Annual Report